The Ben Williams Trust provides support to children with abnormal heart rhythms (arrhythmias) and their families, helping them to learn to live with their conditions and in some cases the threat of sudden death.  It has achieved this through funding the creation of three dedicated and ground-breaking new posts at the Royal Brompton Hospital, London; a nurse specialist (Ben's Nurse), a Clinical Psychologist and most recently a new Nurse Consultant.
We are delighted that Catherine Renwick has been appointed to the Ben Williams Trust-funded post of Nurse Consultant for the inherited cardiac condition team at the Royal Brompton Hospital.  This role is an exciting, ground-breaking development that builds on the success of the previous posts established with the Trust's support.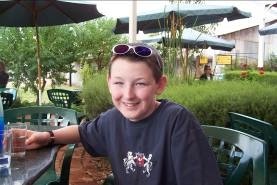 The Trust also supports youth cricket, with a particular emphasis on wicket-keeping.
On this website you can find out more about the Trust, see how we are using the £465,000 that we have raised, and catch up on our news and fundraising activities.  You can also make a secure donation on line using our Just Giving facility and download a copy of the 2019 Newsletter.
As we're sure you will have assumed, we regret that we will be unable to hold this year's Christmas coffee morning and sale.  We will miss the opportunity to catch up with friends that would have been especially welcome this year.  We still intend to offer Debbie's table decorations for sale, priced at £15 for a one-candle arrangement and £20 for a two-candle arrangement, for delivery locally round about 18th December.
If you are interested in buying a decoration, please let us know by Friday 4 December.
New data protection regulations came into force on 25 May 2018.  If you are happy to continue to receive email updates on the progress of our charitable and fundraising activities and have not already done so, please email us at info@benwilliamstrust.org.uk to let us know.  There are further details on our Privacy Notice.
For other enquires, go to the Contact Us page.