Natalie's Marathon (April 2019)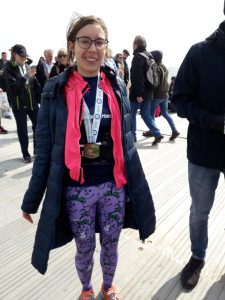 Congratulations and thanks to Natalie Shoham, who ran the Brighton Marathon on Saturday 13 April 2019.  Natalie finished in the amazing time of 3 hours, 55 minutes and 43 seconds and has raised over £400 in support of the Trust.  This continues a family tradition, as Natalie's brother Luke ran the Great North Run in October 2008 on behalf of the Trust.
Christmas Sale (December 2018)
Thank you to everyone who supported this year's Christmas coffee morning and sale at Crofton on Saturday 8th December.  In our first year without Clare Taylor's wreaths, the event still raised over £1,800, thanks to Debbie's decorations and a mouth-watering array of condiments, pickles, cakes, biscuits and other goodies.  We are also very grateful for some extremely generous donations.
For more news view the archive.